Automatic Gate Opener Solutions – Explore the Convenience and Security of Modern Gate Automation
With and Automatic Gate Opener a touch of a button  can control the access to your premises, ensuring a blend of high security with the luxury of modern living.
Our automatic gate openers are designed to suit a variety of fences and gates — whether you have a swinging gate that greets your visitors with a grandiose motion or a sliding gate that offers a sleek and space-saving solution. At Vilo Fence, we are dedicated to providing you with a system that not only matches your aesthetic preferences but also meets your functional needs.
Cutting-Edge Technology: Our automatic gate openers are equipped with the latest in gate automation technology. They're smart, reliable, and designed for easy use. With features like obstacle detection sensors, remote-operated access, and compatibility with smart home systems, your gate will be an integral part of your secure, connected home.
Tailored to Your Lifestyle: We recognize that every Tampa homeowner has unique needs. That's why our team of experts will work with you to customize an automatic gate opener solution that aligns with your lifestyle. Whether you're coming home from work or welcoming guests for a weekend gathering, your gate will function seamlessly and impressively.
Professional Installation and Service: At Vilo Fence, we don't just sell gate openers; we offer comprehensive installation of fences and hand rails and service to ensure your gate operates smoothly from day one. Our professional installation team has years of experience in Tampa's specific climate and architectural styles, guaranteeing an efficient setup that withstands the test of time.
Uncompromised Quality and Safety: Safety is non-negotiable. Our gate openers come with built-in safety mechanisms to prevent accidents and unauthorized access. Coupled with robust materials and construction, you can rest assured that your property is well-protected without compromising on aesthetics.
Have a Question?
We Have Answers
Electric Gate Opener Features – Powering Seamless Entry for Homes and Businesses
At Vilo Fence, our electric gate openers are engineered to provide effortless, secure, and sophisticated access to your property. We understand that an electric gate opener is more than just a functional device; it's an integral component of your home or business's security system. That's why our products come with advanced features designed to meet the diverse needs of our Tampa clients.
Keypad Access for Personalized Security
Our keypads are user-friendly and fully programmable, offering you the ability to set and share access codes as needed. This feature provides a perfect balance between convenience and security, ensuring that only authorized individuals can enter your property. The keypad itself is designed to withstand the harsh Tampa weather, ensuring durability and longevity.
No-Touch Sensor Exit for Ultimate Convenience
In today's world, where hygiene and safety are paramount, our no-touch sensor technology allows entry without the need to make contact with the device. A simple gesture or movement near the sensor prompts your gate to open smoothly, providing a touchless and hassle-free experience for you, your family, or your clients.
Solar Panel Functionality for Eco-Friendly Operation
Vilo Fence is committed to sustainability, which is why our electric gate openers can be equipped with solar panels. This feature is not only good for the environment but also ensures that your gate remains operational even during power outages. Solar panel functionality reduces energy costs and supports a greener Tampa, all while keeping your gate's performance at its peak.
Automate Your Fence Gate – Integrating Technology with Traditional Fencing for Enhanced Accessibility
Elevate the functionality of your traditional fencing with Vilo Fence's automated solutions. Automation doesn't mean replacing the charm and design of your current fence; it means enhancing it with the convenience and security of modern technology. Our automation systems bring a new level of accessibility and sophistication to your property in Tampa.
Seamless Integration with Existing Fences: We specialize in adapting automation to your existing fence, whether it's wrought iron, wood, or vinyl. Our team of experts ensures that the installation of your automatic gate opener complements and enhances your current setup without detracting from your property's aesthetic or structural integrity.
Customizable Access Control: Vilo Fence provides various access control options to suit your preferences. From remote controls, keypads, to smartphone app integration, you have the power to choose how you and your authorized visitors enter your property. These user-friendly systems are designed to give you complete control over your gate's operation.
Enhanced Security Features: Our automated fence gates come with built-in security features that safeguard your home or business against unauthorized access. Timed locking mechanisms, built-in alarms, and intercom systems are just a few options available to ensure your premises remain secure while still being accessible to those you trust.
Smart Home Compatibility: Embrace the future with gate automation that integrates seamlessly with your smart home system. Control your fence gate from anywhere using your smartphone, set schedules for automatic opening and closing, and even monitor gate activity with real-time alerts and notifications.
Durable and Reliable in Any Weather: Tampa's unique climate demands robust solutions, and our automated gate systems are built to last. They're constructed with weather-resistant materials and backed by a warranty that ensures your investment is protected. Whether it's the scorching sun, heavy rain, or salty sea air, your automated gate will function reliably day in and day out.
Automating your fence gate with Vilo Fence means upgrading to a lifestyle of convenience, security, and elegance. We take pride in offering technology that is both advanced and user-friendly, ensuring that your transition to an automated gate is smooth and rewarding. Join the many satisfied Tampa residents who have entrusted Vilo Fence with their gate automation needs and enjoy the benefits of our expertise and exceptional service. Contact us today to discover how we can transform your manual gate into a smart, automated gateway to your property.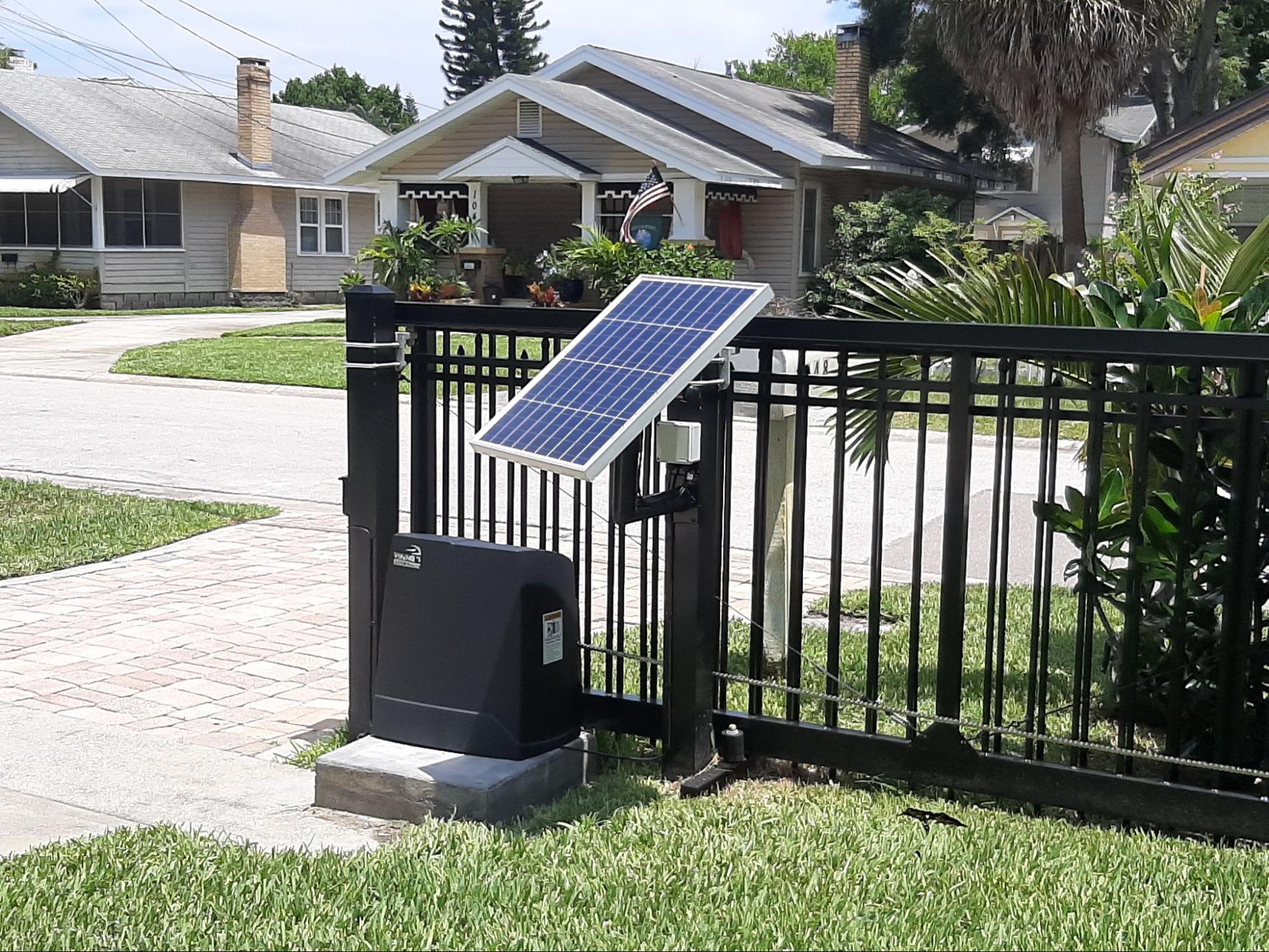 Don't Take Our Word For It
"I called to get an estimate and I was assisted right away. They removed an old fence and had the new one installed in 1.5 days."
– Franky L.
Frequently Asked Questions (FAQs) at Vilo Fence
Q: Can Vilo Fence automate any type of gate?
A: Yes, we can automate a wide range of gate types, including swing gates, sliding gates, and even custom gate designs. Our team will assess your existing gate and provide the best automation solution that is compatible with its structure and design.
Q: How do the no-touch sensors work?
A: Our no-touch sensors use motion-detection technology. When motion is detected within a certain range, the sensor triggers the gate to open. This allows for a hands-free operation that's perfect for when your hands are full or for health and safety reasons.
Q: Are your electric gate openers energy-efficient?
A: Absolutely. Our electric gate openers are designed with energy efficiency in mind. The option to integrate solar panels further enhances this, allowing for a more sustainable solution that harnesses solar energy to power the gate system.
Q: Is it possible to open/close the gate if there's a power outage?
A: Yes. In a power outage, our gates can be manually operated. Additionally, with the solar panel functionality, your gate can continue to work using stored solar energy, ensuring that power outages don't impact the functionality of your gate. There is also battery back up options to ensure the functionality of your gate at all times.
Q: How secure are the keypad entry systems?
A: Our keypad entry systems are highly secure, with encryption and the ability to change codes as frequently as needed. They are designed to prevent tampering and unauthorized access, ensuring your property remains secure.
Q: Can I integrate the gate opener with my existing home automation system?
A: In most cases, yes. Our gate openers are designed to be compatible with many of the leading home automation systems. Our team will work with you to ensure that your new gate opener works seamlessly with your current setup.
Q: What maintenance is required for an automated gate?
A: Regular maintenance is key to the longevity and reliability of your automated gate. This typically includes checking the power supply, sensors, and moving parts for proper operation. Vilo Fence offers maintenance services to keep your gate in optimal condition.
Q: How long does installation take?
A: The installation time can vary depending on the complexity of the gate and the automation system. However, most installations are completed in 1 to 3 days. Our team will give you a more accurate timeline after assessing your specific needs.
Q: What warranty does Vilo Fence offer on automated gate systems?
A: We offer a comprehensive warranty that covers parts and labor. The length and terms of the warranty vary depending on the product and installation. We will provide you with all the warranty details before the installation process begins.
Q: How can I get a quote for automating my existing gate?
A: You can get a quote by contacting us directly through our website, phone, or by visiting our office in Tampa. We will schedule a convenient time to assess your gate and discuss your automation needs to provide you with a detailed and accurate quote.
Contact us for a Free Quote on an electric gate opener
Embrace the future of property access with Vilo Fence. Our automatic gate openers are more than just an accessory; they invest in your property's security, value, and convenience. Contact us today to find out how we can enhance the entrance to your Tampa home or business with our top-of-the-line automation solutions. Let Vilo Fence open the door to a new era of gate automation for you.
For any more questions or to schedule a consultation, please feel free to reach out to us at Vilo Fence. We're here to ensure your gate automation is a smooth and satisfactory addition to your property.